Detroit residents may begin scheduling appointments at the TCF Center.
The following groups can schedule an appointment by calling 313-230-0505 Monday-Friday from 9 am until 6 pm:
Any resident of the City of Detroit who is age 65 or older (that means anyone born in 1955 or earlier).
Childcare providers and K-12 school employees.
Adult Foster Care caregivers.
U.S. Post Office employees who live or work in Detroit.
Employees of the City of Detroit or city-related agencies who are working from their regular job site. (Employees working from home are not eligible at this time).
Federal, state law enforcement officials ho live or work in Detroit and report to a job site, such as FBI, ATF, DEA, U.S. Marshall, U.S. Attorney, State Police, and Michigan Attorney General.
Active members of the clergy who live or work in Detroit and whose ministry brings them into face-to-face contact with congregation members. Bring ministry ID with you to appointment.
Funeral home/mortuary services employees who live or work in Detroit. Bring pay stub/ funeral home ID with you to appointment.
All food or beverage workers living or working in the City of Detroit: Grocery stores, restaurants, meat packing, food and beverage handling facilities.
Security guards and janitors.
All identified populations in Group 1A. Paid and unpaid persons in health care settings who have the potential for direct or indirect exposure to patients or infectious materials working in Detroit.
There will be no cost to individuals for the COVID-19 vaccination.
If you are in one of the identified groups to receive a vaccine, one caller can book for multiple people in your car. You will need 6 pieces of information for each person when you make the call:
Name
Address
Date of Birth
Phone number
Email
Have you had previous allergic reactions to vaccines.
Senior Saturdays – COVID-19 Vaccines.
COVID-19 Vaccines are available BY APPOINTMENT ONLY for Detroiters 65+ at more locations in the Detroit community.
Call (313) 230-0505 Monday–Friday, 9 am – 6 pm to schedule.
Appointments are available at the following locations on: Saturday, February 13th, 20th, 27th and March 6th
Fellowship Chapel – 7707 West Outer Drive, Detroit, MI 48235
Second Ebenezer – Church 14601 Dequindre St, Detroit, MI 48212
Detroit COVID-19 Vaccine Dashboard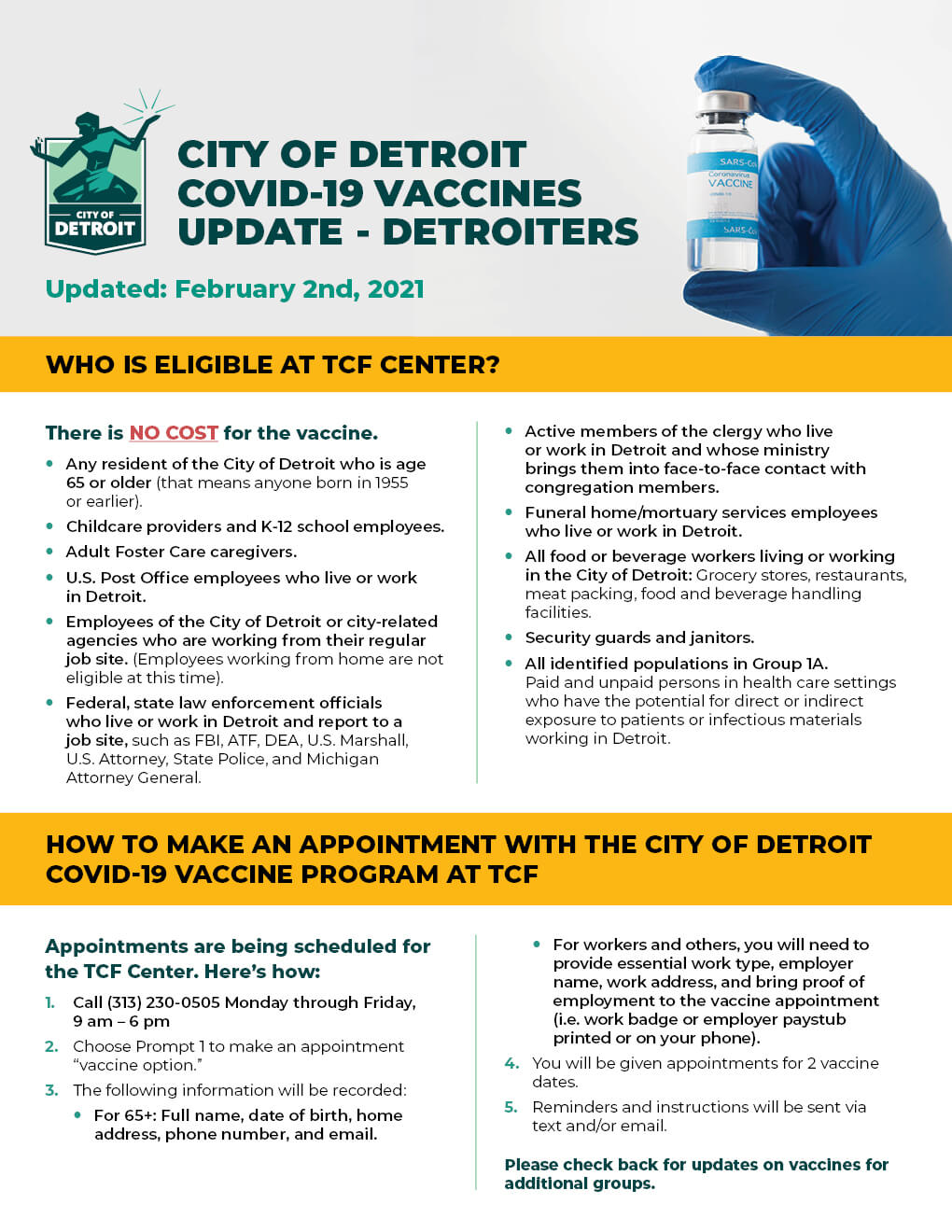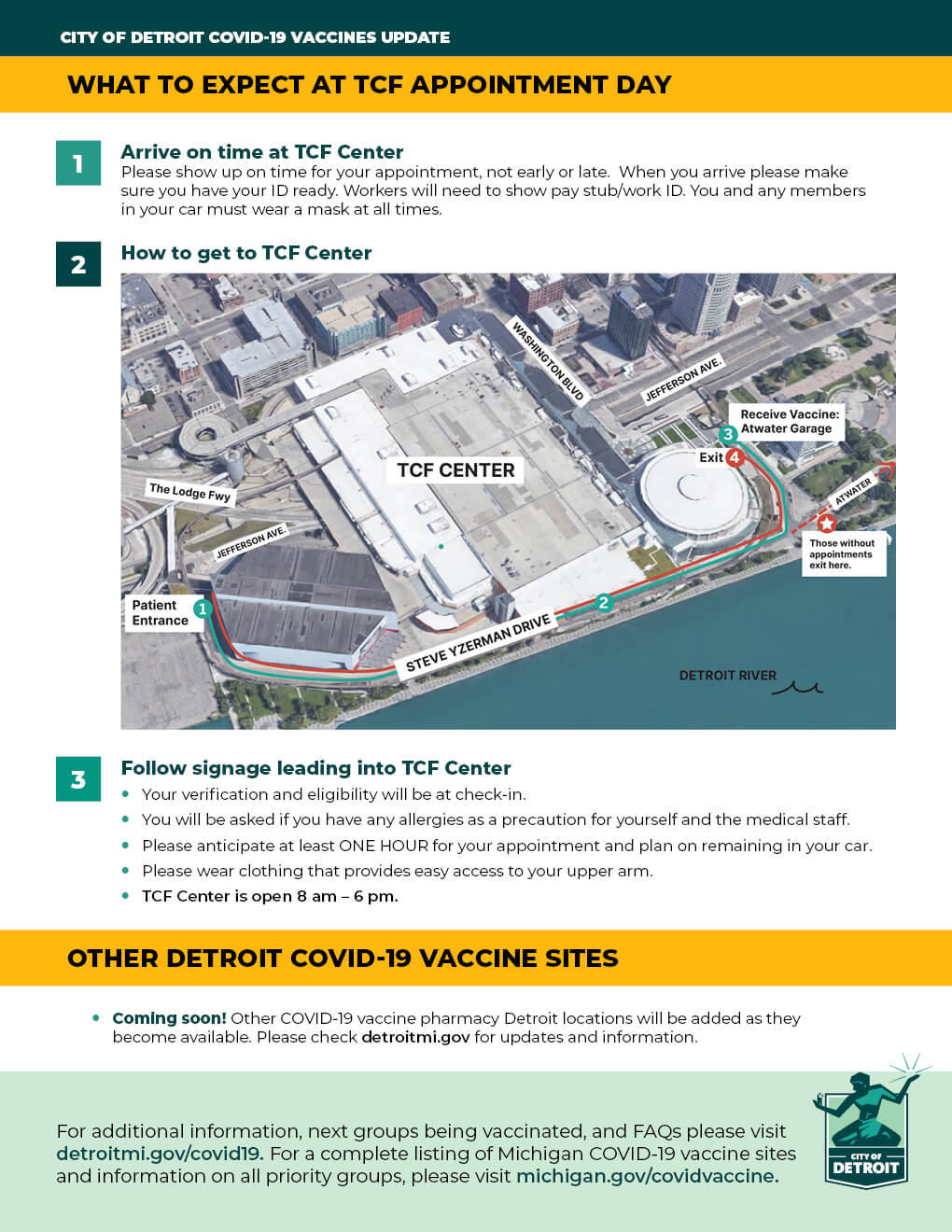 Detroit COVID-19 Vaccine Dashboard
Statewide COVID-19 Vaccine Dashboard
See more about vaccine distribution plans in Michigan here.
See COVID-19 vaccination information from the Centers for Disease Control and Prevention (CDC) here.
CONTACTS
Covid-19 Hotline(313) 876-4000Detroit Health Department COVID-19dhdoutbreak@detroitmi.gov
DEPARTMENT MENU